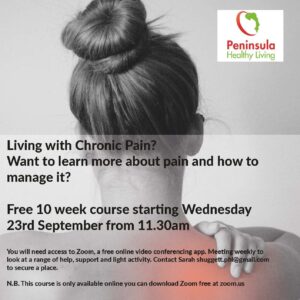 Online Chronic Pain Management Programme
Starts Wednesday 23rd September x 10 weeks, 11.30-1.30pm
Booking essential as only 8 places available.
Do you suffer from chronic pain and want to manage it better? Feel like you've tried everything and nothing is working?
We won't take your pain away but we'll certainly help you manage it. We will have a range of speakers including a pharmacist, physiotherapist and fitness instructor.
To access the course you will need to download
Zoom.us
(it's free). Once you have registered with Sarah
[email protected]
you will receive a recurring link to the meetings.
If you are not sure this is for you please feel free to contact Sarah and she can discuss in more detail with you.